21-02-2021
By Annemarij,
Hostess of Storytelling-Design
On a Studio visit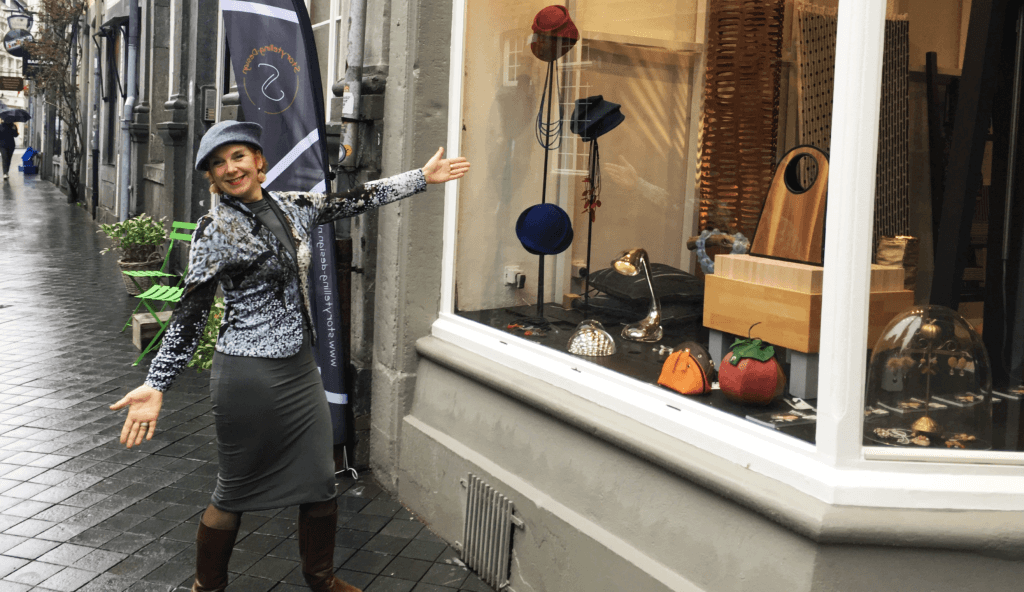 My favorite thing to do is sparkle in my Pop-Up Shops. Collect beautiful products around me from designers I love and tell about them. My heart skips a beat when I'm allowed again!
But my work has even more fun sides.
I think it is very important to get to know my designers and their products well. After all, the more I know, the more beautiful the stories I can tell in the Pop-Ups become. That's why I go on a studio visit. Under the guise of: "it's part of my job" it's mostly fun for me. And that starts with the first appointment. Sometimes it's a new designer I visit, other times a designer I like to spar with, because exchanging ideas always makes you richer. Usually I try to combine different appointments. These are long journeys for me, because I live in South Limburg. And then I get into my car early in the morning for a ride of 2 or 3 hours.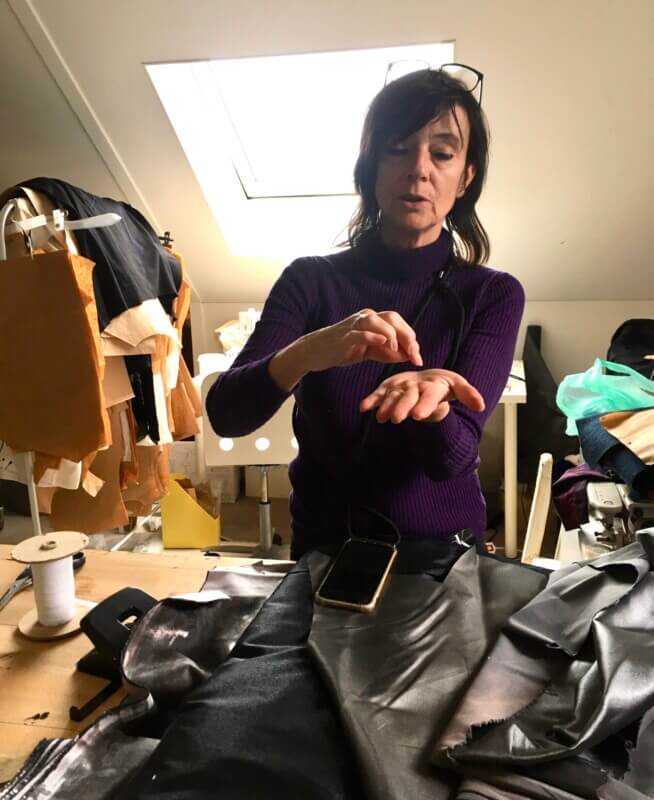 For example, a while ago I left for Veenendaal, to Irma Borgsteede. Irma has been working as an independent fashion designer for over twenty years, with small collections that she produces in-house. She mainly sells her clothes at LIVStores in Utrecht and at Storytelling -Design. Corona time means that less is sold, which means that she has (temporarily) picked up painting again. What I like about it is that the lines in her paintings are reflected in her clothing. So nice to see that and I think we will do something with this in the next Pop-Up.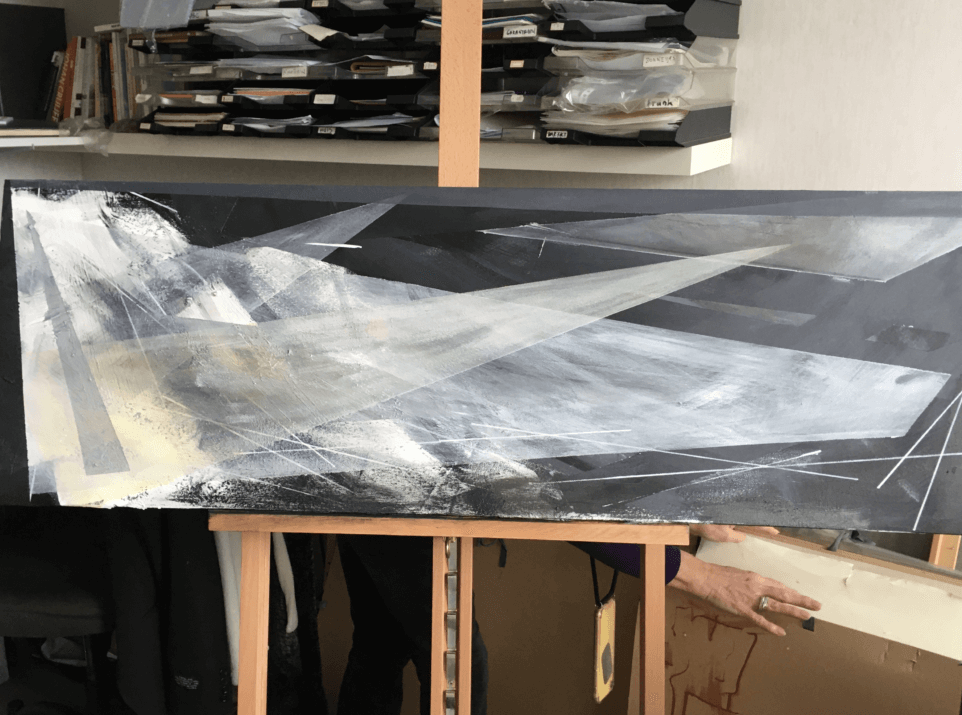 Despite the fact that she enjoyed painting again, designing and making clothes is and remains her passion. Irma has a delightful studio in the attic, full of fabrics and patterns.
The fabrics, always leftovers, slide through her hand and tell her what she is going to make. One fabric would like to become a dress, the next fabric feels like a jacket or the fabric would like to become a nice Home Stay(f) sweater. Irma makes clothing that fits comfortably, from beautiful fabrics with each piece its own touch, sometimes stitched, sometimes dyed, but always unique.
A good conversation part 2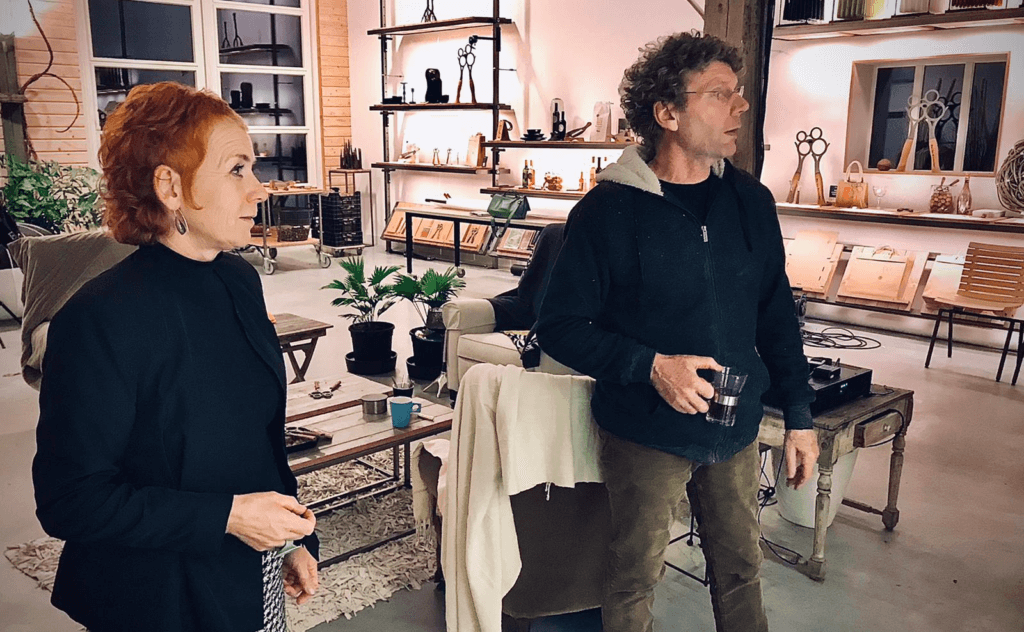 Heeten is "only" 1 hour's drive from Veenendaal, so I also pay a visit to Ore Design, designers of the most fantastic nutcracker. Mannie and Frans live in the outskirts of Heeten, in a beautifully converted farmhouse. They have turned the stable/shed into an office/exhibition/reception/meeting room. Despite the size and height of the room, it feels warm and comfortable.
And outside in the garden is a shed, old and overgrown with ivy, Frans's forge. Inside, this space turns out to be anything but small. Today the fire was out, but it must have been pleasantly warm in recent weeks, because Frans has been working hard with his nutcrackers. Created by a combination of factors; out of love for good tools, with a passion for food, looking for the ultimate nutcracker. "Experience the whole note"
It's nice to see their process and to be shown around their world. A world that encompasses much more than just nutcrackers and cheese cutters. And then I get back behind the wheel for a drive of almost 2 ½ hours home, with a warm heart from the warm receptions and the beautiful conversations.
Thank you to:
Irma van Irma Borgsteede – Wearable Art and to Mannie and Frans from OreDesign!